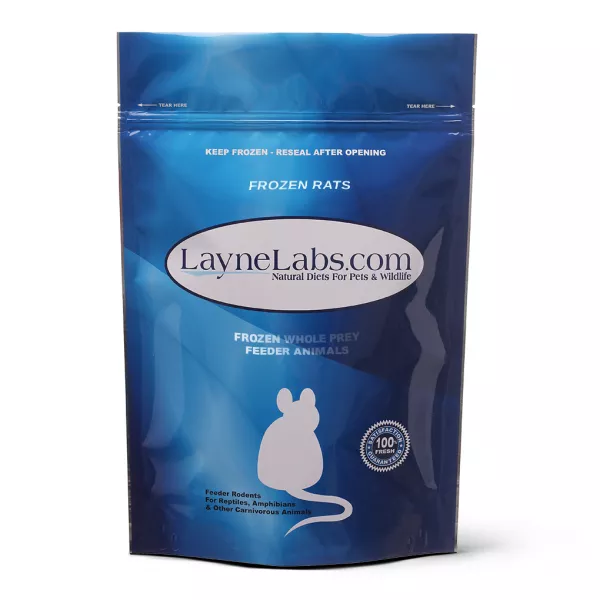 Frozen Rats - Jumbo, 100
Rated 4.9 out of 5 based on 316 ratings
Frozen rats are ideal for reptile breeders and hobbyist, especially now that they're available in smaller quantities. Layne Labs feeder rats are quickly and humanely euthanized, individually flash frozen then counted into re-closeable freezer bags to be shipped right to your door.
Because Layne Labs cares about animal health and nutrition the rats are raised in a USDA licensed facility with constant fresh airflow, daily cleaning, top quality food and fresh, clean water, which makes them a reliable source of quality nutrition for your animals.
What types of animals eat Rats?
Reptiles:
Snakes and lizards rely on rats as a food source in their natural environment. It makes good sense, then, to provide your reptiles with a similar diet, with one big advantage. By feeding Layne Labs rats you are giving your animals top quality rats, which means top quality nutrition. For snakes and lizards who are not going back to the wild, feeding frozen rats also means there is no risk of them being injured by their prey.
Birds of Prey:
Raptors are known for their value in keeping populations of rats and mice under control in the wild so feeding frozen rats to them makes sense. Frozen rats, fed whole, are a good a source of nutrients that raptors rely on for health, whether they are education birds in zoos or other facilities or sick, orphaned or injured birds of prey preparing for release back to the wild.
Thousands of sick, injured or orphaned birds of prey are rescued every year and brought to local Wildlife Rehabilitation facilities to be cared for until they can return to the wild. If you find an injured, sick or orphaned raptor, or any other wild animal, please contact your nearest local wildlife rehabilitator. You can view our list of wildlife rehabilitators to find the one closest to you.
Wild Carnivore Diet:
From coyotes to bobcats, rodents are part of the wild carnivore diet. The only difference between Layne Labs frozen rats and wild rodents is consistency of quality. Which is what is needed to be sure that the wild carnivores in your care are getting the nutrition they need. And feeding rats whole provides nutrients that might be missing in commercial diets.


316
Reviews from people like you
99%
Would recommend to a friend
© Copyright 2023  – LayneLabs. All rights reserved.